LGBTQ Inclusion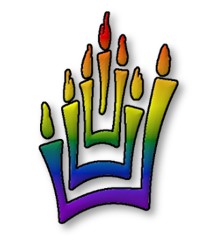 Ohr Kodesh embraces the LGBTQ community and welcomes those who identify as LGBTQ to become a part of our congregation.
Our synagogue strives to be ever-mindful of the mitzvah "V'ahavta lerei'acha kamocha," "Love your neighbor as yourself." We recognize that we are all created b'tzelem Elokim, in the image of G-d, and that, therefore, all of us are entitled to be treated with kavod, respect.
Ohr Kodesh has partnered with Keshet, a leading national LGBTQ advocacy organization, to help us make our policies, programming, and culture reflect our commitment to inclusivity, and to support and advocate for the LGBTQ community.
The LGBTQ Inclusion Task Force welcomes anyone who is interested in helping us plan a program, event, or class, or in contributing ideas for making Ohr Kodesh a community that embraces LGBTQ Jews. The task force actively seeks to present Jewish LGBTQ perspectives, and it speaks out against marginalization, stigma, and hostility.
If you identify as LGBTQ or have friends or family who do, or if this issue is simply important to you, and you would like to join the task force, please contact Melissa Feuer, LGBTQ Task Force chair.
Sun, September 24 2023
9 Tishrei 5784
Today's Calendar
---
Upcoming Programs & Events
---
Candle Lighting
Havdalah
Erev Yom Kippur
View Calendar
Sun, September 24 2023 9 Tishrei 5784