LGBTQ Inclusion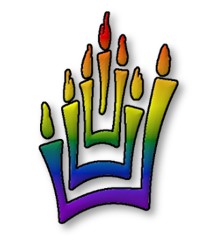 Ohr Kodesh embraces the LGBTQ community and welcomes those who identify as LGBTQ to become a part of our congregation.
Our synagogue strives to be ever-mindful of the mitzvah "V'ahavta lerei'acha kamocha," "Love your neighbor as yourself." We recognize that we are all created b'tzelem Elokim, in the image of G-d, and that, therefore, all of us are entitled to be treated with kavod, respect.
Ohr Kodesh has partnered with Keshet, a leading national LGBTQ advocacy organization, to help us make our policies, programming, and culture reflect our commitment to inclusivity, and to support and advocate for the LGBTQ community.
The LGBTQ Inclusion Task Force welcomes anyone who is interested in helping us plan a program, event, or class, or in contributing ideas for making Ohr Kodesh a community that embraces LGBTQ Jews. The task force actively seeks to present Jewish LGBTQ perspectives, and it speaks out against marginalization, stigma, and hostility.
If you identify as LGBTQ or have friends or family who do, or if this issue is simply important to you, and you would like to join the task force, please contact Ed Langer, LGBTQ Task Force chair.
Fri, July 23 2021
14 Av 5781
Upcoming Events
All Events
Monday

,

Jul

July

26

,

2021

OKC High Holidays Information Session


Monday, Jul 26th

8:30pm

to

9:30pm




Join us to learn more about the options OKC is providing for the High Holidays.

Wednesday

,

Jul

July

28

,

2021

Upheaval: The Journey of Menachem Begin - Presentation by Jonathan Gruber


Wednesday, Jul 28th

7:30pm

to

8:45pm




"Upheaval" Director Jonathan Gruber will discuss his new documentary film, detailing the life of Menachem Begin. Watch the film at home, and join us for the presentation.

Wednesday

,

Aug

August

4

,

2021

OKC Evening Book Club: The Light of Days


Wednesday, Aug 4th

8:30pm

to

9:30pm




This is a story of Jewish women and girls who formed a resistance movement and fought Hitler and his Nazis.
Fri, July 23 2021 14 Av 5781