LGBTQ Inclusion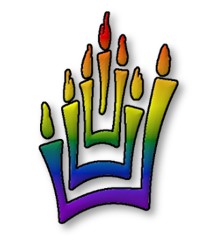 Ohr Kodesh embraces the LGBTQ community and welcomes those who identify as LGBTQ to become a part of our congregation.
Our synagogue strives to be ever-mindful of the mitzvah "V'ahavta lerei'acha kamocha," "Love your neighbor as yourself." We recognize that we are all created b'tzelem Elokim, in the image of G-d, and that, therefore, all of us are entitled to be treated with kavod, respect.
Ohr Kodesh has partnered with Keshet, a leading national LGBTQ advocacy organization, to help us make our policies, programming, and culture reflect our commitment to inclusivity, and to support and advocate for the LGBTQ community.
The LGBTQ Inclusion Task Force invites adults and teens of any sexual orientation or gender identity to participate in our meetings and to help us plan activities, events, and programs.
For more information, please contact Ed Langer, LGBTQ Task Force chair.

Tue, December 1 2020
15 Kislev 5781
Upcoming Events
All Events
Saturday

,

Dec

December

5

,

2020

A Musical Celebration: Havdalah, Study & Concert


Motzei Shabbat, Dec 5th

7:00pm

to

9:00pm




A special evening of study and music, honoring Rabbi Fishman & Debby Rosenman. Featuring Joey Weisenberg.

Monday

,

Dec

December

7

,

2020

Erev Seret: Israeli Movie Night


Monday, Dec 7th

6:30pm

to

8:30pm




Sample some of Israel's most iconic and beloved cinematic works.

Saturday

,

Dec

December

12

,

2020

Who Knows OKC?


Motzei Shabbat, Dec 12th

8:00pm

to

10:00pm




OKC's version of "Who Knows One?". Sleuthing, Prizes & Community candle lighting.
Tue, December 1 2020 15 Kislev 5781