Watch the Rally to Support Israel
On Tuesday, November 14, the Conservative/Masorti Movement rallied with the Jewish Federations of North America and other Jewish groups in support of Israel. Check out footage from the gathering on the National Mall below.
Advocate for the Release of Hostages from Hamas
We will gather in front of the Red Cross Headquarters to advocate for the release of hostages, every Sunday at 12:30 pm until the hostages are freed. Please bring photos of the hostages, Israeli flags, and bells.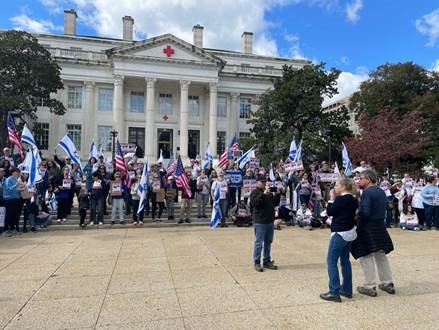 Support IDF Reservists Against Hamas
Dear Ohr Kodesh Community,
I am Gabe Avner, an IDF reserve soldier who grew up in the Ohr Kodesh community. I spoke this past Shabbat about the need to continue our community's support for the IDF (Israel Defense Force).
Two weeks ago, nobody imagined that Israel would have to call up over 360,000 reservists in under a week to respond to the worst massacre of Jews since the Holocaust.
Unfortunately, this is the reality in which we find ourselves.
While the army is quickly catching up and pushing equipment to the front, there are still significant shortfalls in supplying the reservists with the gear they need to take the fight to Hamas.
Missing items include:
Ceramic vests for stopping bullets and shrapnel
Rain gear for the upcoming winter months
Vests for machine gunners and medics
Protective knee pads and gloves
Drones for finding terrorists in the fields
Mounted flashlights for night operations
And more
Israeli civil society and Jewish communities from around the world have been working tirelessly to raise funds and source gear to get them to reserve units stationed near the Gaza Strip and in the north against Hezbollah.
Now we need your help to support our troops in the field over what is likely to be a grueling and painstaking operation to return security to Israel's borders.
HOW TO HELP
Tax-deductible donations for making purchases of gear here in the US can be made directly through Ohr Kodesh using the button above.
We thank you for your support and pray for a speedy end to this dark chapter in our history.
Sincerely,
Gabriel Avner
Sgt. 1st Class (res)
Jerusalem Brigade
9th Battalion
Read the former Times of Israel's military correspondent Judah Ari Gross's article explaining the shortfall situation here.
Responding to Terror in Israel:
Resources for Talking to Children About What's Happening in Israel:
There are scary stories in the news right now, and children of different ages (and all individual children) benefit from different styles of communication. Here are resources for preparing for tough conversations at home:

How to talk to kids about what is happening in Israel right now
Written by Dr. Sivan Zakai, an educator who focuses on Israel and on child development.
Provides scripts for parents and other adult caregivers to talk about the current unprecedented events with children of different ages.

Terrorism and War: How to Talk to Children
From the American Academy of Child & Adolescent Psychiatry.
Provides guidelines for healthy conversations about traumatic events.

Israel at War – Fact Sheet
From the Lookstein Center of Bar-Ilan University.
A short summary of key elements of the conflict; consolidated definitions useful for planning talking points.
Current Events, Hebrew Table & Cultural Arts
Learning and being informed about the Jewish state is an important value of the Ohr Kodesh community.
Israel programming at OKC ranges from current events to the political, cultural and social aspects of Israel.
Join us for Conversational Hebrew to learn how to speak like an Israeli, for the Israel Table to stay up to date with currents events, for Israeli Movie Nights to experience different artistic, cultural and historical views, or for Elu Va'Elu to connect with Israelis and discuss our Jewish identities.
Check out current programs.
For more information about Israel programming and to get involved, contact OKC Shilcha (Israeli emissary), Laila Akselrad at laila@Moedcommunity.org or IsraelActivities@ohrkodesh.org.
Tue, December 5 2023 22 Kislev 5784